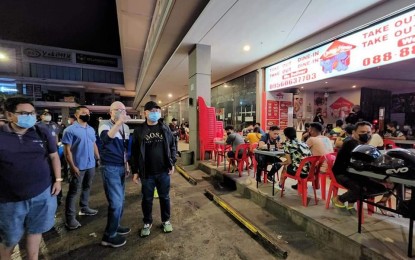 CAGAYAN DE ORO CITY – The city government here plans to reimpose curfew for minors in the wake a series of untoward incidents in this city this month.
Police Col. Aaron Mandia, CDOPO chief, said Mayor Rolando Uy has discussed with him the possibility of limiting the movement of those aged 17 and below during certain hours to prevent more crimes from taking place.
"This was being talked about as a recommendation with the mayor, but we would like to inform the public that the peace and order situation is under control," Mandia assured.
On June 6, former Mayor Oscar Moreno signed an executive order that lifted the 10 p.m. to 5 a.m. curfew hours imposed at the start of the Covid-19 pandemic in 2020.
Uy recently visited the bars and restaurants here following an earlier shooting that killed one person. He said he will soon convene the City Peace Development and Security Council due to the series of incidents and plans to revive Operation Kahusay ug Kalinaw (OKK) program.
OKK is a centralized police station in downtown Divisoria which significantly contributed to the peace and order situation here in the early 1990s.
One recent incident happened here around midnight of July 17 where a 20-year-old delivery rider was stabbed to death and his minor girlfriend allegedly raped along the Coastal Road in Barangay Lapasan.
The Police arrested a suspect and his accomplish shortly after. In the next four days, two parking attendants were also killed.
"We need to ensure the security of our residence in the city. Based on the data from the police, the crime rate has dropped. However, there are high-profile crimes. That is why I tasked the police to provide additional efforts," Uy said in a statement.
Second District Rep. Rufus Rodriguez likewise met with Mandia on Saturday to discuss the crime incidents. He urged the city council for the reimposition of curfew through an ordinance, and amend rules they deem necessary to reduce criminality. (With PNA)