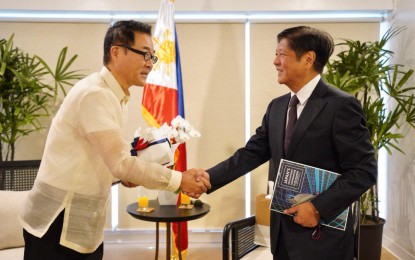 The Japanese government has vowed to strengthen defense cooperation with the Philippines under President Ferdinand "Bongbong" Marcos Jr. to achieve a "free and open" Indo-Pacific.
Japanese Ambassador to the Philippines Koshikawa noted that the Indo-Pacific regional security environment has rapidly become "more testing and uncertain."
"Japan has reinforced our commitments to peace and stability of the region in order to achieve a free and open Indo-Pacific," he said in a speech during a reception for the 68th anniversary of the Japan Self-Defense Forces (JSDF).
Koshikawa said what is important is "close cooperation among like-minded countries bonded by such universal values and principles as freedom, democracy, and the rule of law, which is why the Philippines is one of our most reliable partners."
The Japanese envoy cited activities in the South China Sea, which he described as disrespect to the United Nations Convention on the Law of the Sea (UNCLOS).
"Turning our eyes to the South China Sea, is international law really being respected? Neither international law, in particular the UNCLOS, to which all relevant parties agreed after years of dialogue and tireless efforts, nor the 2016 award rendered by the Arbitral Tribunal under the said Convention, is being complied with," he pointed out.
In his May 2022 telephone call with Marcos, Japanese Prime Minister Fumio Kishida sought "close coordination" with the Philippines for the realization of a free Indo-Pacific.
Apart from defense, Japan and the Philippines also have a close relationship in diplomacy, economy, and culture. Japan is the top Official Development Assistance partner of the Philippines in certain critical spheres like maritime law enforcement, infrastructure, development, disaster prevention, agriculture, education, health. human resource development, space development, Mindanao Peace Process, Marawi reconstruction, and grassroots projects, among others.
Koshikawa said the "JSDF anniversary celebration is a salute to the golden age of our strategic partnership."
He added that he is strongly "convinced the partnership will continue to be successful with new President Ferdinand Marcos Jr. and his administration, and my sincere appreciation goes to all of those who have contributed and worked hard to get us where we are now."