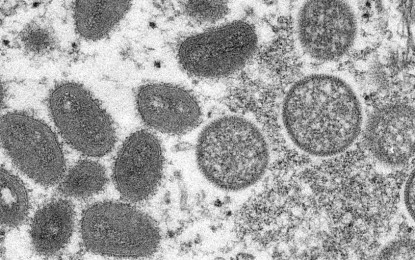 The entry of the rare monkeypox virus in the Philippines is  possible through carrier travelers from overseas.
Vaccine Experts Panel member Dr. Rontgene Solante said monkeypox, endemic in parts of Central and West Africa, has been detected in countries with "high-tech healthcare facilities".
"With travel, you know now the possibility of one infection, a person carrying the the monkeypox virus can travel a lot and can enter a country. That's where the vulnerability of most population lies — when one has the infection incubating and then arriving in the Philippines and develop the symptoms upon arrival or after the arrival," he said.
According to the World Health Organization, the disease has recently emerged in 12 countries including Australia, Belgium, Canada, France, Germany, Italy, Netherlands, Portugal, Spain, Sweden, United Kingdom, and the United States of America.
The WHO said it is caused by the monkeypox virus which is transmitted with lesions, body fluids, and respiratory droplets.
"For the monkeypox, the most common human to human route of transmission or mode of transmission is only respiratory droplets, meaning within three feet talking to each other without any face mask that's the mode of transmission," Solante said.
In terms of transmissibility, Solante noted that Covid-19 is more transmissible than monkeypox as it can be spread in several ways. "Aside from droplets, you also get airborne Covid virus because it's a very small particle that can remain in the air. Another way is contact transmission," he added.
Nonetheless, monkeypox transmission could be prevented with similar minimum public health protocols observed during Covid-19 pandemic. Its symptoms include fever, intense headache, muscle aches, back pain, low energy, swollen lymph nodes and a skin rash or lesions.
The WHO said vaccination against smallpox may help stop the monkeypox virus transmission. Health authorities continue to monitor the outbreak of monkeypox overseas but the closure of the country's borders is still unlikely.