The Department of Science and Technology (DOST) and the Electric Vehicle Association of the Philippines (EVAP) have recently introduced to the public the locally-made 23-seater electric jeepney (e-jeepney) via a demo run in Alabang, Muntinlupa.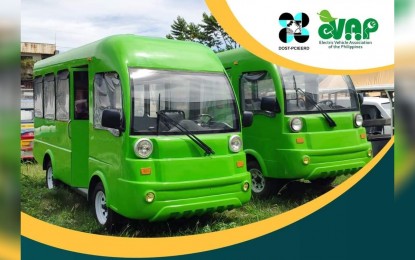 The e-jeepney was developed by engineers of EVAP, while the research and development, prototyping was funded by the DOST for P4.9 million,"
DOST-Philippine Council for Industry, Energy, Emerging Technology Research and Development (DOST PCIEERD) executive director Enrico Paringit said ToJo Motors has already committed to adopt the technology and manufacture the 23-seater jeepney. "We also call on other manufacturers to be adopters," he urged.
In his speech prior to the prototype's demo run, DOST Secretary Fortunato de la Peña, likewise, urged the local motor industry to get involved in the project.
"We urge our friends from the industry to work together in this journey towards energizing the transport sector for the successful adoption of e-vehicles. We call on our partners in government and in the private sector to come up with creative support mechanisms, like financing and leasing, so that the manufacture of the vehicle or its components could be more attractive for investors, and will eventually benefit the operators and drivers and the riding public," De la Peña said.
The DOST Secretary said they have been pushing for environment-friendly initiatives and alternatives. "We believe that electrifying our country's transportation sector is one of the ways we can free us from the skyrocketing prices of fossil fuel and protect our environment at the same time," he stressed.
De la Peña shared that EVAP studied and developed battery charging and swapping systems using lithium-ion batteries, as well as a workable operations template that involves fleet operations and the collection of daily loan amortization.
The e-jeepney features low-carbon electric vehicle technology and production standards. "Standardization of common parts and components are crucial to drive down costs, ensure safety and assure reliability," he added.
Paringit stressed that having the e-jeepney would help reduce the country's reliance on fossil fuels and improve the air quality in communities.