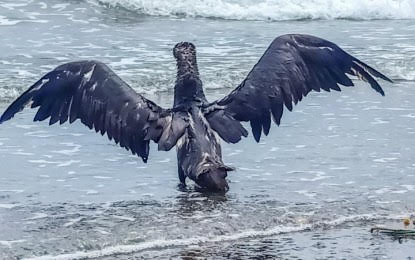 The Community Environment and Natural Resources Office (CENRO) of Mobo town in Masbate recently released a rescued Brown booby (Sula leucogaster), a large seabird, back to the sea, the Philippines News Agency reported quoting a social media post.
In a Facebook post, the Department of Environment and Natural Resources (DENR) said fisherfolk of Purok San Francisco, Calumpang, Milagros town found the seabird entangled in a rope on the shore.
Officials brought the seabird to the nearest DENR office, which was in Mobo.
"CENRO officer Jean V. Imperial together with Wildlife Enforcement Officers Ryan Moneño and Stephen Solar Ragasa immediately responded and conducted an inquiry" upon receiving reports from residents, the post read.
The seabird reportedly weighed some three kilos, had a total wingspan of 4.9 feet and body length of two feet. It was not injured.
The DENR officials released the animal to lessen its stress in captivity. The agency conducted public awareness briefings on wildlife and awarded the finders their certificates of commendations, among others.
DENR Administrative Order (DAO) No. 2019-09 or the Updated List of Threatened Philippine Fauna, lists the Brown booby as an endangered specie. It is also protected under RA 9147 otherwise known as the Wildlife Resources Conservation and Protection Act.