LEGAZPI CITY – Around 300 pupils from kindergarten to Grade 3 of three public schools in Masbate province have received free dental health services early this week from the Department of Education Schools Division Office Health and Nutrition Unit of Masbate (DepEd-Masbate) in collaboration with Philippine Dental Association (PDA)-Masbate Chapter.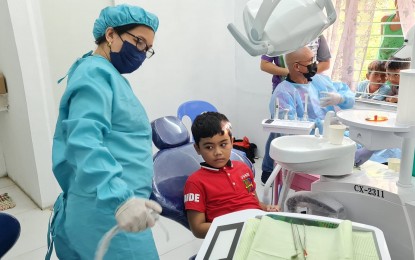 In an interview on Friday, Dr. Sionita Arevalo, dentist in charge of the Masbate Schools Division, said it is a continuing project as part of the celebration of Oral Health Month.
"We are targeting at least 18 schools from Burias Island and Ticao Island to conduct free dental health services for learners from kinder to Grade 3. We are also considereing situations in the different areas," Arevalo said.
The parents and guardians of the children thanked the organizers for extending and conducting the said services in their community.
"Learners of Burgos Elementary School, Panisijan Elementary School, and Buenavista Integrated School all in Masbate province, were the recipients. They received free fluoride varnish application, tooth extraction and pit and fissures sealant that will help their teeth become healthy and strong," Arevalo said.
She also said aside from free dental services, dentists distributed dental kits and school supplies to the learners.
At least eight dentists from the DepEd and five private practitioners joined the activity.
Isah Espejon, 33, has a child in second grade and said through Project Kusog, she was able to learn more about proper dental care for her daughter.
Lerna Arisgado, 66, was very happy for her grandchild who has crooked teeth, after receiving free dental services.
"Kaila la namon [sir] kay nagkadi kamo sa barangay namon, naayos na an ngipon san akon na apo (We are very happy that you came here in our barangay. The teeth of my grandchild was finally fixed)," she said in an interview. (With a report from Eliakim Neric/PNA-OJT)