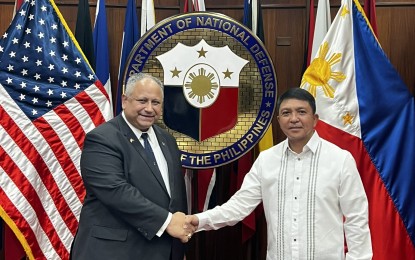 The United States and the Philippines have reaffirmed their commitments to upholding their Mutual Defense Treaty during the visit of US Secretary of the Navy Carlos del Toro and meeting with the Department of National Defense (DND) on July 26.
to discuss developments in bilateral defense relations with senior Philippine defense officials.
DND spokesperson Arsenio Andolong said incoming DND Undersecretary Franco Nemesio Gacal welcomed Secretary del Toro to the Philippines, who is visiting the country for the first time.
The two officials discussed issues and developments in bilateral defense relations and and "reaffirmed their commitments to the Philippines-US Mutual Defense Treaty," Andolong said.
During the meeting, he said Del Toro commended the dedication and professionalism of the Philippine Navy, and underscored the commitment of US President Joe Biden to a positive and productive relationship with the Philippines.
Andolong said Undersecretary Gacal echoed the statements of President Marcos on the country's "independent foreign policy and reaffirmed the DND's mission to protect the sovereignty and territorial integrity of the Philippines."
Del Toro, he said, also cited the importance of ensuring a free and open Indo-Pacific, as well as respecting international laws.